The Sacrament of Baptism was instituted by Jesus who was baptized by St. John the Baptist in the Jordan River. (Mk 1:9-11)
'Holy Baptism is the basis of the whole Christian life, the gateway to life in the Spirit, and the door which gives access to the other sacraments. Through Baptism we are freed from sin and reborn as sons of God; we become members of Christ, are incorporated into the Church and made sharers in her mission: "Baptism is the sacrament of regeneration through water and the word."' (Catechism of the Catholic Church – CCC 1213)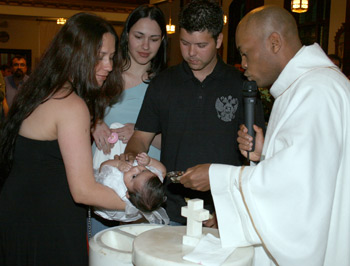 When parents bring their newborn children to the Church to be baptized, they and the child's sponsor(s), or godparent(s) are suitably instructed on the meaning of Baptism and the obligations that go with it. Parents should be members of Good Shepherd Parish and have been practicing the Faith in consistent, year round attendance at Mass as well as participating in other parish activities.
Parish Guidelines for Baptism
A Roman Catholic parent (or the guardian who has the legal custody of the child) who is an active member of Good Shepherd Parish may seek Baptism for their child in our parish community.
To be a member of Good Shepherd Parish you must be a registered and practicing member of the parish for a period of at least six months prior to the date of the Baptism.
The Church emphasizes the role of parents as the first and best teachers of their child in the ways of faith and Christian values. During the Baptism, the parents of the child promise to do their best to raise their child in the practice of the faith. Obviously, the parents should manifest their faith by participating in the weekly Sunday Eucharist with the faith community into which their child is to be incorporated. We look for an honest and wholehearted commitment on the part of the parents.
It is never our intention to deny Baptism to anyone. However, there may be circumstances that would lead us to suggest the postponement of the Baptism until the parents are ready to carry out the promises they must make at the Baptism ceremony.
Baptism initiates the baptized person into the Catholic community. After the parent(s) complete the process of preparing for the Baptism, a date and time will be fixed for the celebration.
The child must have at least one godparent, although two are usual – one from each sex. The godparent must be a "regularly practicing Catholic" and must have received all three Sacraments of initiation namely, Baptism, Confirmation and Eucharist. They are required to profess their faith and to expressly assume the responsibility of a godparent for the child.
Members of other Christian churches, though good Christians, may serve as a Christian Witness at the Baptism.
If you have any questions about this Sacrament or wish to be baptized or have your child baptized, please contact the Parish Office at 508-693-0342.