Good Shepherd Parish Feed My Sheep Program
The Food Baskets of MV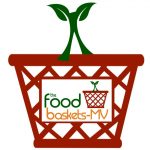 Beginning April 2019, in collaboration with the Greater Boston Food Bank, Good Shepherd Parish currently offers bi-monthly free food distributions of frozen proteins, along with fresh fruits and vegetables here at the Parish Center, back entrance off School Street for anyone with food insecurity. They are asking users to fill out this online form at https://www.thefoodbasketsmv.org/registration They keep all information confidential. The database is one designed for Greater Boston Food Bank agencies so that we can track and manage the size of the community we serve. We do not provide any information to law enforcement, federal, state, or immigration agencies.
 DATES FOR  2021:  Saturdays, twice per month beginning at 10:30 am— scheduled for the 1st and 3rd Saturdays of the month. Due to continued coronavirus precautions folks are to remain in their vehicles; prepared bags/boxes will be placed in it.
New for March 2021: Food Pantry is open from 8:00 am to 12 noon on Tuesdays.
If you are home-bound and need food delivered, please call our food bank 508-696-1948 and leave a message for home delivery, at no charge.
See the bottom of this page for other agencies' food distributions offered on Martha's Vineyard.
2020 Update: From July 1, 2019 to June 30, 2020 we distributed over 217,280 lbs of food. the MV Food Baskets has handed out over 7,700 bags of food and 2,427 boxes of food. During this time frame, we were able to provide food for libraries, Community Services, Oak Bluff Elementary, MVRHS, Wampanoag Tribe, Senior Centers,  as well as the Boys and Girls Club.
We have received grants from the Boston Food Bank for $10,000 and the diocese of Fall River for $8,000 to purchase a freezer – this enables us to distribute more food like frozen meats, soups, etc. In 2020 with thanks to the Martha's Vineyard Charitable Foundation's donation of $42,500 in July 2020 a 26′ refrigerated delivery truck was purchased. Money from the Permanent Endowment for MV and other generous donors keeps our program funded and allowed us to make much needed improvements to the food pantry space.
We have a great group of staff and volunteers that help. They get the job done with good cheer, dedication, accuracy and speed. Those who have received these services are very grateful. This program is made possible through our parish Good Shepherds' financial support and Catholic Social Services.
Children's Food & Backpack Program
2020 Update: We ended in March with the school shutdowns due to the corona virus. MVRHS has resumed food distribution to students in Sept., while OB School and the Boys and Girls Club are working out details to start up again (see chart above).
2019 Update: From July 1, 2018 to June 30, 2019 we distributed over 75,000 lbs of food to over 6,100 individuals – including meals for over 3,900 children, 2,500 households, 2,100 adults, 125 seniors. We distributed over 1,800 bags of food and 1,200 boxes of food.
Piloted in 2017 at the Oak Bluffs School, the privately-funded backpack program sent kids home on Fridays with food to share with their families over the weekend.  This effort is so students will not have a tougher time coming back to school after weekends and school vacations with headaches or stomachaches due to lack of nutritious food to eat.
Currently with support from our parish Good Shepherds, Catholic Social Services and food runs to the distributor, the Greater Boston Food Bank, volunteers load bags and boxes at the parish center food pantry then deliver them to the island locations, weekly during the school year. To volunteer, contact Joe Capobianco 508-274-1170.
Other Resources: The Martha's Vineyard Boys & Girls Club has a Healthy Happy Kids (H2K) after school food program. They provide hundreds of Island children nutritious food after school.
Island Grown Initiative will to continue to serve  free, nutritious lunches this summer to anyone in need starting July 6th at these locations:
Their first ever Summer Food Service Program served 1,500 meals to 275 children during 5 weeks in the summer of 2017 to bridge the nutrition gap when school is not in session. The IGI website is www.igimv.org.
---
Community Suppers
Due to the coronavirus restrictions there will be Community Take Out Suppers on Thursdays for 2021 (2nd and 4th TH of month): February 11th and 25th following previous dates of January 14th and 28th at 5pm, St. Augustine's Church. Please call no later than 5pm the previous day to reserve your meals at 508-684-6270.
A Vineyard tradition during the darkest and coldest months of the year, January through March, churches from around the Island take turns providing community suppers at which all are always welcome, and the food is free. To help when in-person meals resume, please contact Mary Ellen Larsen at 508-693-1103 or email her at melarsen1103@gmail.com The full island schedule is listed below (check with them to see if cancelled by coronavirus limitations).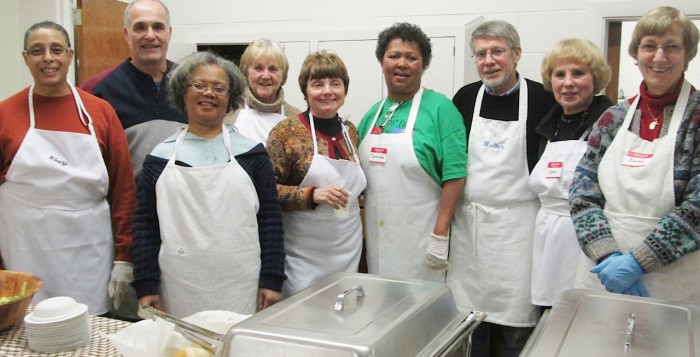 On Thursday night, a group of parish volunteers served up dinner and friendship in the basement of St. Augustine's Church in Vineyard Haven. — Photo by Nate Horwitz/MVTimes
FULL WEEKLY SCHEDULE:
Mondays 5:30pm St. Andrews Church 508-627-5300   34 North Summer St., Edgartown (Hosted by United Methodist Church MV & St. Andrews Episcopal Church)
Tuesdays 5:30pm Chilmark Community Church 508-645-3100   9 Menemsha Cross Road, Chilmark
Wednesdays 5:30pm WT Congregational Church 508-693-2842   State Road, West Tisbury
Thursdays 5:00pm Good Shepherd Parish 508-693-0342  56 Franklin Street, VH (Hosted by Good Shepherd Parish & MV Hebrew Center)
Fridays 5:00pm Grace Episcopal Church 508-693-0332  Supper held at the Baptist Church, William Street, Vineyard Haven
Saturdays 5:30pm Trinity Parish House 508-693-4424 In the Campgrounds in Oak Bluffs (Hosted by United Methodist Church MV)
Sundays 12:30pm Federated Church 508-627-4421 45 South Summer Street, Edgartown
---
Houses of Grace: Island Winter Shelter Program and Warming Center
The new location for 2020-21 is the Old Whaling Church, Edgartown offered now through Harbor Homes. It opened Sunday, Nov. 29 and will be in service daily through the end of March 2021. Overnight limit is 13. Check in is 6 pm (dinner is served) through 9 am (breakfast at 8 am). They are offering lunch from noon-2 pm as well. Read the article at https://vineyardgazette.com/news/2020/11/30/harbor-homes-homeless-shelter-opens-old-whaling-church?fbclid=IwAR3g52ivx8HCYornHtkK6xIQLi6t9-GC3lgVTzlaPqxizcvL1ze26ZixGdU
2020-21 UPDATE: Due to continuing coronavirus restrictions, GSP is not hosting the overnight shelter or warming center.
Good Shepherd Parish in 2020 again hosted the Houses of Grace Island Winter Shelter on Wednesdays Jan.-March at the Parish Center lower level. 2020 weekly schedule began Thursday, Jan. 2nd. In 2017 and 2018 St. Augustine's hall was used. Started in 2016, this program is for men, women, and families–whether you are homeless, or out of heating fuel and need a warm place to stay overnight. St. Andrew's Episcopal Church, Edgartown hosts Tues., Fri.-Sun., and the Federated Church, Edgartown hosts Mondays/Thursdays.  This was suspended mid-March due to the coronavirus.
The shelters open at 7 pm and close at 7 am the following day. Bedding is provided. Volunteers will also help put out an evening meal and a breakfast. No dinner after 7:30 pm, or admission after 8 pm. There will always be 2 persons per shift and there are 2 shifts per night. 2019 volunteer training sessions were offered Oct. 18, Nov. 5 & Dec. 5. If interested in helping contact Fr.Chip Seadale at St. Andrew's Episcopal Church: office@standrewsmv.org The shelter is coordinated by the Island Clergy.
Training sessions for new volunteers were offered at The Federated Church, Edgartown or at Good Shepherd Parish Center, Oak Bluffs.
+ + + + + + +
The Houses of Grace Warming Center is cancelled here for 2020-21 (see above for new location). If and when a new locations is identified we will update you. The regular hours were: Mon 12:15 – 2:00 pm; Tues-Sat 11:00 am – 2:00 pm through March 30, 2020. This was also suspended mid-March due to coronavirus precautions.
New to the island for 2017, the Warming Center was made available at the Parish Center basement/gym,  during the harsh winter months. It's a respite from the cold for men, women and families during these daytime hours with warm beverages and refreshment along with showers, laundry service, use of the internet and ability to charge cell phones was available. Meals to go are provided and toothbrushes/toothpaste. It is open only when staffed by volunteers. If interested in volunteering, call the office and we will forward your information to the coordinator, Rebecca Jamieson. Donations are welcomed.
Both of these community outreach programs here at GSP are financially supported by our Good Shepherds.
---
Crop Walk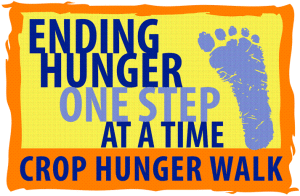 Thanks to all who participated in the virtual walk this year (2020) and came to the closing ceremony on Sunday, October 18th at St. A's. Together we helped to raise almost $1500.
What is a CROP Hunger Walk? Neighbors walking together to take a stand against hunger in our world. Together we raise awareness and funds for international relief and development, as well as local hunger-fighting.
Crop Walk Martha's Vineyard takes place on a Sunday, in mid-October beginning at 2:00 pm from St. Augustine's Church, 56 Franklin Street, Vineyard Haven over to the Camp Ground in Oak Bluffs and back. We encourage our parish families to participate in this annual event.
http://hunger.cwsglobal.org/site/TR/2014FallCROPHungerWalk/TR-Fall2014?fr_id=19802&pg=entry
---
Red Stocking Fund
The Red Stocking Fund distributes food vouchers for Thanksgiving and again in March, but its big push comes from the winter holidays. Its roots date back to 1938 when Mrs. Harris M. Crist asked her friends to fill six red stockings with gifts for needy children. Today, although the initiative has grown substantially, it is still a grass-roots effort manned by an all-volunteer army of close to 100 people, and supported by hundreds more.
Three annual off-season events benefit the Red Stocking fund -— the Martha's Vineyard Big Chili Contest in January, the Chowder Contest held each year during Christmas in Edgartown weekend, and the MV Harley Riders Toys for Tots ride. The rest of the donations come from local businesses and individuals. "Kids collect change in the schools or host used-book sales," says Ms. Susie Wallo, co-chair. "We always get some large checks, but a lot of it is $5, $10. People who come here in the summer or subscribe to the local papers send us checks. Their hearts go out to the cause. It's just so incredible. People come out of the woodwork." The money collected is used to purchase clothing and gifts and to supply Island families with holiday meals. In November, the Red Stocking Fund distributes applications through banks, schools and churches. Families in need are placed on a list to receive grocery gift certificates around Thanksgiving, Christmas, and Easter.
Parents of children up to the eighth grade can provide a list of their children's most needed clothing and hoped-for toys. Everything is kept confidential. Volunteers work from numbered lists, with no names so that it's anonymous. The toy donations all come from individuals and local businesses and organizations, including the Good Shepherd Parish. The Red Stocking accepts only new toys, games, or books. All kids get a book and some sort of art supplies. "Each package includes several major items of clothing," says Ms. Wallo, "like a jacket or sweater, in addition to pajamas, socks, underwear, hats and mittens. The last two are generally handmade items donated by local knitters. Each kid also gets a book donated by the Bunch of Grapes Bookstore." A few days before the distribution date, a crew arrives at St. Augustine's Church Hall in Vineyard Haven to wrap and sort the gifts. Distribution is held the second Friday of December.
Every year the Red Stocking Fund provides Christmas gifts for 300 to 400 kids in need, from approximately 200 families.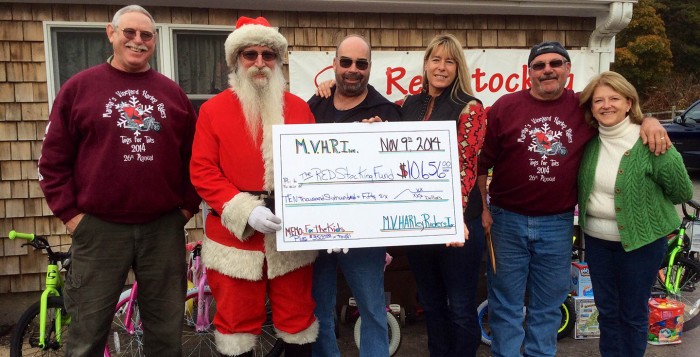 Susie Wallo, far right, is the Red Stocking Fund co-chair. Harley Riders, left to right, David Caseau, Harley Riders treasurer; Mike "Panhead" Fuss; David "Cricket" Willoughby, Riders vice president; Lisa Mathieu; Renei Mathieu, Harley Riders president. —Photo by Michael Dello Russo/MVTimes
For more information contact Susie Wallo at 508-776-6050, or Leslie Frizzell at 508-523-1373. Checks in support of the Red Stocking Fund may be mailed to Susie Wallo, Treasurer, PO Box 600, Edgartown MA 02539.
---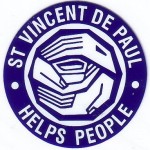 St. Vincent de Paul Society
"The question which is agitating the world today is a social one. It is a struggle between those who have nothing and those who have too much. It is a violent clash of opulence and poverty which is shaking the ground under our feet. Our duty as Christians is to throw ourselves between these two camps in order to accomplish by love, what justice alone cannot do."
On September 7, we celebrate the feast day of Blessed Frederic Ozanam (1813-1853 ) quoted above, Founder of the Vincent de Paul Society. A scholar during his time, Frederic was inspired by the plight of the poor, seeing service to those in need as the duty of all good Christians. Not content to simply help the poor in their time of need, he sought to radically change the lives of the downtrodden. To help achieve his goal, Frederic founded the Vincent de Paul Society—an active organization today with over one million members in 32 countries.
We do not help to pay rent as we are not a rental subsidy. We can offer Stop and Shop gift cards only. If you need emergency food assistance, contact the Parish Office 508-693-0342; or Bill Bennett, Treasurer 508-560-0511.
All Holy Day of Obligation collections at Good Shepherd Parish go to the St. Vincent de Paul Society.
---
Other Food Sources
Island Food Pantry (moves to the PA Club in OB, Feb. 22, 2021)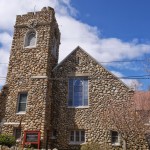 PO Box 1874
Vineyard Haven MA 02568
phone: 508-693-4764
Located at Christ United Methodist Church on Church Street in Vineyard Haven. If you or someone you know on Martha's Vineyard needs the assistance of the Food Pantry, the following information should be helpful.
—FOR 2021: It is open Saturdays 10am-12pm, Mondays 2-4pm and Wednesdays 2-6:30pm providing pre-packed grocery bags for easy pickups.
–The Pantry is available all the time for emergency food assistance by phone at 508-696-4764. If you are home-bound or self-quarantining, please get in touch for food delivery by emailing  delivery@islandfoodpantry.org
Who can use the Pantry?  Anyone who is not financially able to obtain the food they need may use the Pantry. If you are on Mass Health, SNAP, or Fuel Assistance or are simply unable to afford groceries this month, we are here for you. We will ask that you fill out a registration form on your first visit.
How often can I visit?  Shoppers may visit every two weeks as needed. Some shoppers come less frequently depending on current needs. If you are limited in what you can take due to transportation or storage, let us know and we can arrange for more frequent visits.
What kind of food is available? Non-perishable grocery items, fresh produce and whole-grain bread, dairy products such as cheese, eggs, and yogurt, and frozen meats, vegetables, and fruit. Canned and dry items are still a staple, but we offer healthier low-sugar and low-sodium varieties as well. Instead of pre-packaged bags, our clientele is able to select the items they want and need, resulting in more healthy, appetizing meals with less food waste.
How much am I allowed to take? Everyone who uses the Pantry has different needs that frequently change over time. If you need only a little to supplement what you have, that is what you should take. If you are in a particularly difficult time and you need more than what is recommended, please let us know.

We want you to take what you need. As a general guideline:
One person may take 3 reusable grocery bags of food.
A family of 2 to 3 people may take 4-5 reusable grocery bags.
A family of 4 or more can take 6+ bags (depending on how many you are feeding).
Visit their website at: Island Food Pantry   In 2017, IFP celebrates 36 years during which time we have gone from one volunteer to nearly 80. Under the tutelage of Armen Hanjian just this year we served 423 families and nearly 1,000 individuals 177 of whom were children.
Good Shepherd Parish supports them year-round with the purple food drop-boxes in our churches available for parishioners to bring non-perishable food items.
---
MV Family Center
MV Community Services MV Family Center's food pantry remains available to families by appointment.  Please email mvfamilycenter@gmail.com or call 508-687-9182 to schedule an appointment.
The Family Center connects families with resources within our community and provides education and support to parents/caregivers of children ages 0-8, including the prenatal and pre-adoptive period.  The Center is an Island hub where parents can get support in navigating the joys and challenges of parenthood. The MV Family Center is welcoming, accessible and respectful of all families who come through their doors.
Other services include: parent and child activities, support groups, parent education, community and family events, individual and family support. All activities are free of charge thanks to grants from the Massachusetts Children's Trust Fund, Department of Early Education and Care, and Coordinated Family and Community Engagement Grant (CFCE). For more information go to their website https://www.mvcommunityservices.org/services/youth-family-services/mvfamilycenter/
---
Serving Hands/Family to Family Food Distribution
Monthly food distribution on designated Fridays at the First Baptist Church, 43 Spring Street, Vineyard Haven or at the Ag Hall, W Tisbury. January 22, 2021 from 1:30-3:30 pm (first come, first served).