Good Shepherd Parish Feed My Sheep Program
The Food Baskets of MV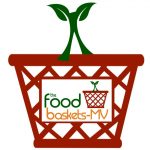 Begun here April 2019, in collaboration with the Greater Boston Food Bank, Good Shepherd Parish currently offers bi-monthly free food distributions of frozen proteins, along with fresh fruits and vegetables here at the Parish Center, back entrance off School Street for anyone with food insecurity. They are asking users to fill out this online form at https://www.thefoodbasketsmv.org/registration They keep all information confidential. The database is one designed for Greater Boston Food Bank agencies so that we can track and manage the size of the community we serve. We do not provide any information to law enforcement, federal, state, or immigration agencies.
To volunteer, contact Sarah, our food outreach distributor.   sarah@goodshepherdmv.com
All persons aged 18 and older must complete the "Essential Three" as outlined in the Diocesan Policy for the Protection of the Faithful in order to minister, work or volunteer in the Diocese of Fall River.  Find all the training info and requirements to be met on our website SET Training and Documents and printed copies are also available within the food pantry, or at the main entrances to all 3 island Churches. If helping one-time only, you can fill out the One-Day Form provided by the supervisor, and give a copy of your driver's license/ID. Volunteers are CORI'd annually. High School students aged 18 or younger will read and sign the Youth Code of Conduct, along with a parent or guardian. Contact Sue Pagliccia, CORI coordinator 508-693-0342 during our regular office hours.
 DATES FOR  2023:  Saturdays, twice per month; beginning at 10:00 am– scheduled for the 1st and 3rd Saturdays of the month.
Continuing from March 2021: Our Food Pantry is open from 8:00 am to 12 noon on Tuesdays. **Closed January 3, 2023.**
If you are home-bound and need food delivered, please email Sarah for home delivery, at no charge.   sarah@goodshepherdmv.com
https://vineyardgazette.com/news/2022/05/01/staffing-shortages-boston-food-bank-hits-island-charities-hard
2020 Update: From July 1, 2019 to June 30, 2020 we distributed over 217,280 lbs of food. the MV Food Baskets has handed out over 7,700 bags of food and 2,427 boxes of food. During this time frame, we were able to provide food for libraries, Community Services, Oak Bluff Elementary, MVRHS, Wampanoag Tribe, Senior Centers,  as well as the Boys and Girls Club.
We have received grants from the Boston Food Bank for $10,000 and the diocese of Fall River for $8,000 to purchase a freezer – this enables us to distribute more food like frozen meats, soups, etc. In 2020 with thanks to the Martha's Vineyard Charitable Foundation's donation of $42,500 in July 2020 a 26′ refrigerated delivery truck was purchased. Money from the Permanent Endowment for MV and other generous donors keeps our program funded and allowed us to make much needed improvements to the food pantry space.
We have a great group of staff and volunteers that help. They get the job done with good cheer, dedication, accuracy and speed. Those who have received these services are very grateful. This program is made possible through our parish Good Shepherds' financial support and Catholic Social Services.
Children's Food & Backpack Program
2020 Update: We ended in March with the school shutdowns due to the corona virus. MVRHS has resumed food distribution to students in Sept., while OB School and the Boys and Girls Club are working out details to start up again (see chart above).
2019 Update: From July 1, 2018 to June 30, 2019 we distributed over 75,000 lbs of food to over 6,100 individuals – including meals for over 3,900 children, 2,500 households, 2,100 adults, 125 seniors. We distributed over 1,800 bags of food and 1,200 boxes of food.
Piloted in 2017 at the Oak Bluffs School, the privately-funded backpack program sent kids home on Fridays with food to share with their families over the weekend.  This effort is so students will not have a tougher time coming back to school after weekends and school vacations with headaches or stomachaches due to lack of nutritious food to eat.
Currently with support from Catholic Social Services, and generous donors, our outreach distributor makes food runs to the distributor, the Greater Boston Food Bank, along with volunteers who load bags and boxes at the parish center food pantry then deliver them to the island locations, weekly during the school year.
Other Resources: The Martha's Vineyard Boys & Girls Club has a Healthy Happy Kids (H2K) after school food program. They provide hundreds of Island children nutritious food after school.
---