from the Catechism of the Catholic Church, # 1157:
"Song and music fulfill their function as signs in a manner all the more significant when they are "more closely connected . . . with the liturgical action," according to three principal criteria: beauty expressive of prayer, the unanimous participation of the assembly at the designated moments, and the solemn character of the celebration. In this way they participate in the purpose of the liturgical words and actions: the glory of God and the sanctification of the faithful:
How I wept, deeply moved by your hymns, songs, and the voices that echoed through your Church! What emotion I experienced in them!  Those sounds flowed into my ears, distilling the truth in my heart. A feeling of devotion surged within me, and tears streamed down my face — tears that did me good.  (St. Augustine, Confessions 9:6, 14)
With this in mind, our varied music ministries lead the faithful in prayer and song during "the designated moments" of the Mass, which are the following: the Opening Hymn or song, the Gloria, the Psalm Response, the Alleluia, the Offertory, the Holy, Holy, Holy, the Memorial Acclamation, the Great Amen, the Lamb of God, Communion and Recessional Hymn. Note that full participation in music and spoken responses is everyone's responsibility, and we are to support and encourage one another by our own presence, attentiveness and good spirit.
This ministry is an offering to God of first-fruits of time and talents, and a ministry to the congregation seeking to provide appropriate music for prayer, reflection and meditation. These musical offerings draw from the Church's rich musical heritage and ministers of music are encourage by the Church to develop their talents in the service of the liturgy. The instrumental music and choral works are offered not as mere entertainment or performances, but as a form of prayer which hopefully can move others to pray as well.
If you would like to share your musical and/or singing talents, please let us know!
All persons aged 18 and older must complete the "Essential Three" as outlined in the Diocesan Policy for the Protection of the Faithful in order to minister, work or volunteer in the Diocese of Fall River.  Find all the training info and requirements to be met on our website SET Training and Documents and printed copies are also available within the food pantry, or at the main entrances to all 3 island Churches. If helping one-time only, you can fill out the One-Day Form provided by the supervisor, and give a copy of your driver's license/ID. Volunteers are CORI'd annually. High School students aged 18 or younger will read and sign the Youth Code of Conduct, along with a parent or guardian. Contact Sue Pagliccia, CORI coordinator 508-693-0342 during our regular office hours.
  Adult/Youth Choir
  Saturday 4 pm Mass,  St. Augustine's, VH
  Sunday 11 am Mass, St. Elizabeth's, EDG summer adds 9 am Mass
  Contact Cindy Krauss
  508-509-4141
Portuguese Music Group  
  Saturday 7 pm Mass
  Contact Lucia Matos
  508-726-5296
   The Good Shepherds Music Group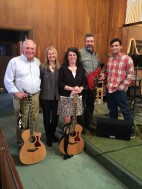 Sunday 9:00 am Mass, St. Augustine's, VH
    Summer: Sunday 8 & 9:30 am Masses, St. A's and
    Sunday 11:30 am Mass, Our Lady Star of the Sea, OB
    Contact Cheryl Lowe
    774-563-0525
 Music for Weddings or Funerals      Contact Cindy Krauss   508-509-4141