Currently with 76 parishes, the Catholic Diocese of Fall River was established in 1904 with 44 parishes serving 130,000 people. It now covers 1,194 square miles in Southeastern Massachusetts, including Bristol County, Cape Cod, Martha's Vineyard, Nantucket and the towns of Mattapoisett, Marion and Wareham in Plymouth County. Within the area the Catholic population numbers over 279,000 persons.
​Most Reverend Edgar M. da Cunha, S.D.V., D.D. was installed as the Eighth Bishop of the Fall River Diocese Sept. 24, 2014.   (click on image for website) 
Over the October 9-10, 2021 weekend, Pope Francis launched for the Church worldwide the 16th Ordinary General Assembly of the Synod of Bishops with its theme of "For a synodal church: communion, participation and mission." It will include consultation in three phases, diocesan, national and continental, and will culminate in an October 2023 assembly in Rome.
At the request of the Holy Father and in union with bishops around the world, Bishop Edgar M. da Cunha, S.D.V., opened the diocesan phase of the Synod in the Fall River Diocese on Sunday, October 17, in the context of the 10:30 a.m. Mass in St. Mary's Cathedral. The bishop celebrated a special votive Mass of the Holy Spirit whose guidance and inspiration will be sought for a fruitful synodal experience and outcome.
Our Good Shepherd Parish representatives are Donna Gazaille and Sergio Racig.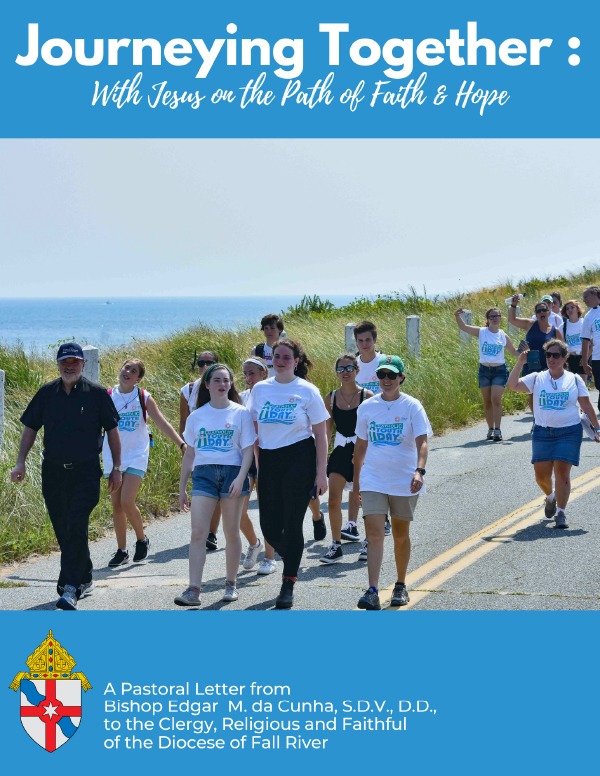 On September 24, 2021, on his 7th anniversary as our shepherd, Bishop da Cunha issued a Pastoral Letter: Journeying Together: With Jesus on the Path of Faith and Hope. In it he writes for us to be open to God's Call, and to take up the work of evangelization within the "synodal" ("common road" of clerics and lay people working together) Church. Our bishop offers the Way Forward which includes invitational witness, sacramental living and vocations to go out and make disciples.
He writes: As we move forward with a renewed focus on evangelization and partnering as brothers and sisters in Christ, let us not forget that Jesus frees us from sin, death, darkness, and hopelessness through His death and Resurrection. For the first disciples, Easter changed everything around them. We are an "Easter People" and, by our very Baptism, we are called to live in that truth—to live in the light of Christ.
Many thought when Jesus was dying upon the Cross and uttered the words, "It is finished," maybe it was indeed the end. The world would be descending into chaos, and yet quite the sin and death—to new life. The attempts to destroy Jesus failed, and instead, He rose again and conquered death itself. Jesus is not dead, He is alive, and that makes all the difference in the world. How much hope and courage can we draw from this truth? Jesus is the living Messiah, Son of God, and our Savior. The Apostles went forth witnessing what they had heard and seen, sharing all God had done for them, which He also did for us. What a relief—how liberating and reassuring it is to know Jesus conquered sin and death, not only in his life but in ours as well! We know and believe He is alive, and so we, too, become witnesses to that truth.
Read the full letter here: https://www.fallriverdiocese.org/wp-content/uploads/2021/09/Journeying-Together_FINAL.pdf
Begun in 2017, a new Diocesan-wide parish planning  "Rebuilding in Faith and Hope" focused on three major goals: revitalizing our parishes; renewing the ministries of the Diocese; and strengthening support for clergy. Good Shepherd Parish was one of the pilot parishes where the work of strategizing began in 2018.
In 2019, several new collaboratives were formed with a pastor and parochial vicar, along with a Pastoral Associate, Lay Administrator and a Coordinating Council to best serve the needs of adjoining parish communities. Bishop da Cunha saw this as "a new beginning that is going to bring new fruit, new life, and new hope."