SAFE ENVIRONMENT REQUIREMENTS TO MINISTER/WORK/VOLUNTEER IN THE DIOCESE OF FALL RIVER–All persons aged 18 and older (& out of high school) must complete the Essential Three as outlined in the Diocesan Policy for the Protection of the Faithful in order to minister, work or volunteer in the Diocese of Fall River. (Criminal Background Check-CORI, Safe Environment Video Training, and Code of Conduct.)  High school students, and younger, complete ONLY the Youth Code of Conduct. Contact Sue, SET coordinator at the parish office 508-693-0342 or by email  sue@goodshepherdmv.com with any questions. These required documents are also available via the office, and in our church buildings.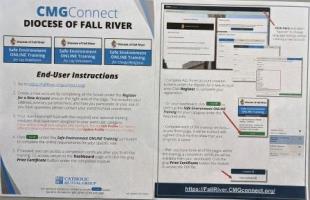 First, use this CMG Connect flyer as a guide to create an account at https://fallriver.cmgconnect.org/; choose "Good Shepherd Parish–Vineyard Haven" or "Good Shepherd Parish–Oak Bluffs" for your location. Do the Safe Environment On-line Training w/questions AND complete the Code of Conduct; then print your certificate.
If you have a driver's license/ID issued from any state other than MA or RI, or you have lived outside of MA within the last 10 years you need to do one additional step at https://fallriver.cmgconnect.org/ Please go under Optional Trainings, and select "National Background Check – Fall River" so a national  background check can be run. It is at no expense to the individual, just an additional step for processing.
If you reside in RI, or had within the last 10 years, you must also fill out the RI Authorization to Release Information (updated January 2023). It needs to be notarized before returning it with the CORI document and your driver's license/ID to the parish office for submission to the diocesan Safe Environment Office.
Complete and return this signed CORI document (new form March 20, 2023) with your government issued driver's license/ID to the parish office. (This document is done annually, or every 3 yrs for staff and sub-contractors.) 
The Code of Conduct is included in the initial online training. As of March 2023, the Code of Conduct DOES NOT expire if  it was done after July 2020.
**FOR ANY STUDENT IN HIGH SCHOOL OR YOUNGER: This Youth Code of Conduct only is required. It is to be signed by student and parent before returning it to the parish office. As of March 2023, the Youth Code of Conduct DOES NOT expire.
EM PORTUGUÊS:
REQUISITOS DE AMBIENTE SEGURO PARA MINISTRO/TRABALHO/VOLUNTÁRIO NA DIOCESE DE FALL RIVER–Todas as pessoas com 18 anos ou mais (e fora do ensino médio) devem completar os Três Essenciais, conforme descrito na Política Diocesana para a Proteção dos Fiéis, a fim de ministro, trabalho ou voluntário na Diocese de Fall River. (Verificação de Antecedentes Criminais-CORI, Treinamento em Vídeo de Ambiente Seguro e Código de Conduta.) Alunos do ensino médio e mais jovens devem preencher APENAS o Código de Conduta Juvenil. Entre em contato com Sue, coordenadora do SET no escritório paroquial 508-693-0342 ou por e-mail sue@goodshepherdmv.com com qualquer dúvida. Esses documentos exigidos também estão disponíveis no escritório e nos edifícios de nossa igreja.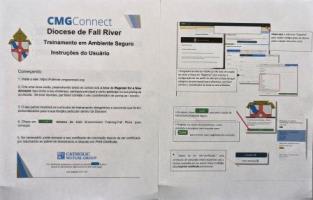 OS TRÊS ESSENCIAIS: https://www.fallriverdiocese.org/wp-content/uploads/2021/04/Essential-Three-Portuguese.pdf
Treinamento em Ambiente Seguro Instruções:  https://www.fallriverdiocese.org/wp-content/uploads/2021/04/Safe-Environment-Training-Portuguese.pdf
FORMULÁRIO DE RECONHECIMENTO DE INFORMAÇÕES DE REGISTRO DE OFENSOR CRIMINOSO (CORI) https://www.fallriverdiocese.org/wp-content/uploads/2023/03/CORI-Acknowledgement-Form-Portuguese-March-2023.pdf
Código de Conduta:  https://www.fallriverdiocese.org/wp-content/uploads/2022/12/Code-of-Conduct-July-2020-Portuguese-Translation-12-29-20.pdf
Código de Conduta Juvenil disponível apenas em inglês.  https://www.fallriverdiocese.org/wp-content/uploads/2020/12/Youth-Code-of-Conduct-2020.pdf